Transmission Repair

Rolls Royce and Bentley Transmission Rebuilding.
Complete Line of transmission rebuilding services.
Welcome to Palma Brothers Transmissions! We are pleased to announce an addition to our family. Transmission specialist James L. De Shields has availed his services to us. Certified by both ATRA & ASE Jim has been the proud owner of DeHawk Transmission for the past 30 years. Jim has recently given up the business and is presently teaching automatic transmission theory and application at Camden County Community College. Jim is an expert in all automatic transmissions, from vintage models to today's computerized multi-speeds. Therefore his vast knowledge is invaluable when it comes to restoring a classic motorcar. We welcome Jim's Expertise. As experts we strive to provide the best customer service and care for you and all of your transmission needs. We know you have a choice in auto maintenance and strive to make you, the customer, and our number one priority. Our skilled and certified mechanics and knowledgeable staff combine to offer you the highest quality services possible. We offer some of the best warranties in the industry and pride ourselves in excellence while maintaining hometown values. The next time you need transmission work, look no further than our family.
---
Graduate Spotlight ~ Wilfrido Melendez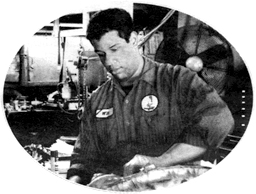 (Courtesy of Camden County College Magazine – Vol. 3, N0. 1)
---
When Wilfrido Melendez graduated from the Marie H. Katzenbach School for the deaf in Trenton, he wanted a career in the computer industry. He entered CCC and decided to switch his major. "I entered the automotive program," said Melendez. "I knew it was what I wanted to do. All my teachers were great and motivated me to do well."
Melendez, the first in his family to earn a college degree, has entered a unique field in the auto industry, he rebuilds Rolls-Royce cars. "I really enjoy working on these classic cars," said Melendez. "To me, the newer cars are more complicated, everything is so tight. Besides, I have really big hands, so I can't maneuver them around inside the newer cars," he joked. Asked if he owns a Rolls-Royce, the 25-year old smiled and said, "No, I drive a Honda Civic."
Melendez, a Camden County resident, said the education he received was "outstanding," adding there are several teachers instrumental in his success. "I had people there who really cared about helping me succeed, like Jim DeShields and Bob Strong."
DeShields continues to be a huge influence in Melendez's life. "Jim DeShields worked with me and taught me all about these classic cars, and I want to thank him," said Melendez. "After graduation I went to work for him. He continues to teach me so much."
DeShields has a mutual admiration for Melendez. "He is fantastic! He makes up for his lack of hearing and speech by using his hands," said DeShields. "I could never find anyone better. I wish I could clone him!"
Melendez said he wants to start his own business someday and credits the College for helping him reach his potential. "I am very proud to say I graduated from Camden County College."
---
No Fields Found.
Palma Classic Cars
Average rating:
0 reviews